Two actors, minimal sets, rich emotions and breathtaking storytelling combine to make Last Train to Nibroc a sweet ride for people who are in love, people who were once in love, and people who want to be in love. NYTheatre.com calls it "…a blissfully sweet romantic play quite unlike the typical fare offered in theatres these days."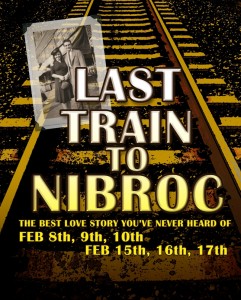 Set in December 1940, the last train to Nibroc is an east-bound cross-country train carrying the bodies of the great American writers Nathanael West and F. Scott Fitzgerald. Also on board is May, who shares her seat with a charming young flyer, Raleigh. Religious and bookish, May plans to be a missionary. Raleigh has been given a medical discharge and, inspired by West and Fitzgerald, is heading to New York to be a writer. Raleigh and May discover they are from neighboring Appalachian towns, and he decides to change trains for Kentucky, promising to take May to the next Nibroc Festival. What happens next is…well, you'll just have to see it to find out.
This funny, poignant and touching portrait of two people searching for happiness has drawn both critical and popular acclaim, with the the New York Times declaring,  "You could easily enjoy another few hours of this." Backstage calls Last Train to Nibroc, "A character study that has originality and charm." Time Out NY notes,  "Nibroc's jokes are funny and its couple endearing because their emotional struggles ring true."
Lamplighter's Theatre Company's production of Last Train to Nibroc runs February 8, 9, 10, 15, 16 & 17. Friday and Saturday performances are at 7:30 pm; Sunday performances are at 4:30 pm.
Lamplighter's Theatre is located on the campus of Springhouse Worship and Arts Center at 14119 Old Nashville Highway, Smyrna, TN. Tickets are available at www.ticketsnashville.com. For more information contact Lamplighters Theatre Company at (615) 852-8499(TIXX).