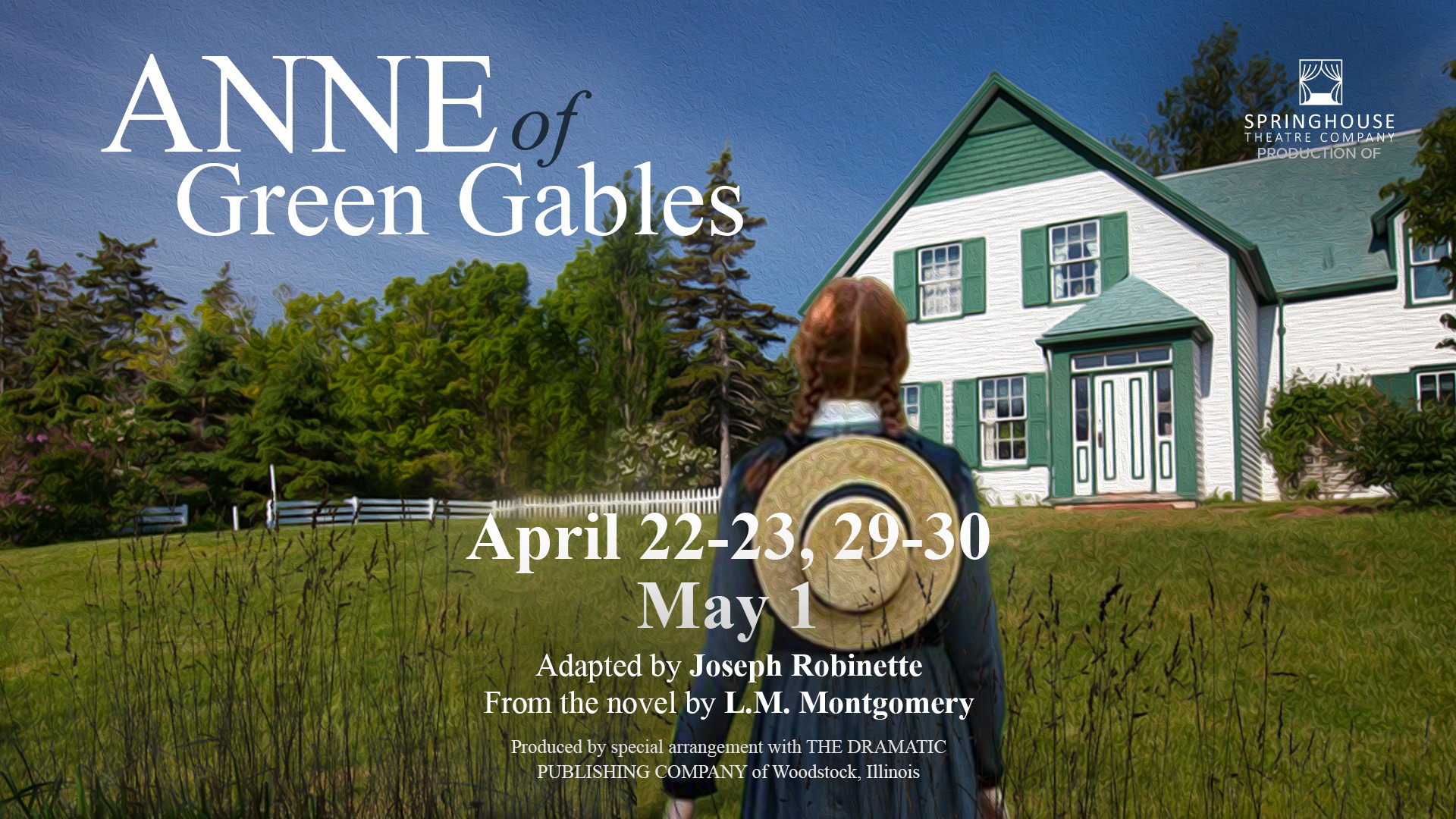 Anne of Green Gables
By Joseph Robinette and Evelyn Swensson
From the novel by Lucy Maud Montgomery
The orphan Anne Shirley comes to live with an older couple (brother and sister) in the small town of Avonlea on Prince Edward Island. Anne is eager, earnest, smart, and disaster-prone. Everyone who comes into contact with Anne is changed, and for the better.
The theatre lobby and box office opens 1 hour before each curtain.
Seating begins 30 minutes before curtain for season ticket holders and groups.
Seating begins 20 minutes before curtain for all other patrons.
Children under 4 years old are not permitted in the theatre.
Performance Dates
April 22, 7:30 PM
April 23, 7:30 PM
April 29, 7:30 PM
April 30: 7:30 PM
May 1, 3:30 PM (matinee)
Meet the Cast!
Director: Teri Beck
Charlotte Myhre Shealy – Anne Shirley
Warren Sager – Matthew Cuthbert
Deborah Roby – Marilla Cuthbert
Shanda Perkins – Rachel Lynde
Preston Raymer – Mr. Phillips/Jerry Boute
Ashley Wheeler – Prissy Andrews/Miss Rogerson
Caroline Humphries – Diana Barry
Emma Reinbold – Mrs. Barry
Audrey Gypson – Minnie May Barry
CeCe Day – Josie Pye
Elanah Bruce – Ruby Gillis
Sam O'Brien – Moody MacPherson
Jack Witte – Charlie Sloane
Kharis Vedders – Jane Andrews
Hunter Thaw – Gilbert Blythe
Katie Orr – Miss Susan Stacy
Francie Smith – Aunt Josephine Barry
Hali Fowler – Mrs. Allan/Mrs. Blewett
Philip Johnson – Station Master
David Morris – Reverend Bentley/Reverend Allan
Jeremiah Vedders – Jimmy Glover
Bethany Grace O'Brien – Carrie Sloane/Mary Jo
Marcus Lackey – President of Queen's Academy/Mr. Sadler
Charlotte Myhre Shealy – Anne Shirley
Warren Sager – Matthew Cuthbert
Deborah Roby – Marilla Cuthbert
Shanda Perkins – Rachel Lynde
Preston Raymer – Mr. Phillips/Jerry Boute
Ashley Wheeler – Prissy Andrews/Miss Rogerson
Caroline Humphries – Diana Barry
Emma Reinbold – Mrs. Barry
Audrey Gypson – Minnie May Barry
CeCe Day – Josie Pye
Elanah Bruce – Ruby Gillis
Sam O'Brien – Moody MacPherson
Jack Witte – Charlie Sloane
Kharis Vedders – Jane Andrews
Hunter Thaw – Gilbert Blythe
Katie Orr – Miss Susan Stacy
Francie Smith – Aunt Josephine Barry
Hali Fowler – Mrs. Allan/Mrs. Blewett
Philip Johnson – Station Master
David Morris – Reverend Bentley/Reverend Allan
Jeremiah Vedders – Jimmy Glover
Bethany Grace O'Brien – Carrie Sloane/Mary Jo
Marcus Lackey – President of Queen's Academy/Mr. Sadler
Produced by special arrangement with THE DRAMATIC
PUBLISHING COMPANY of Woodstock, Illinois