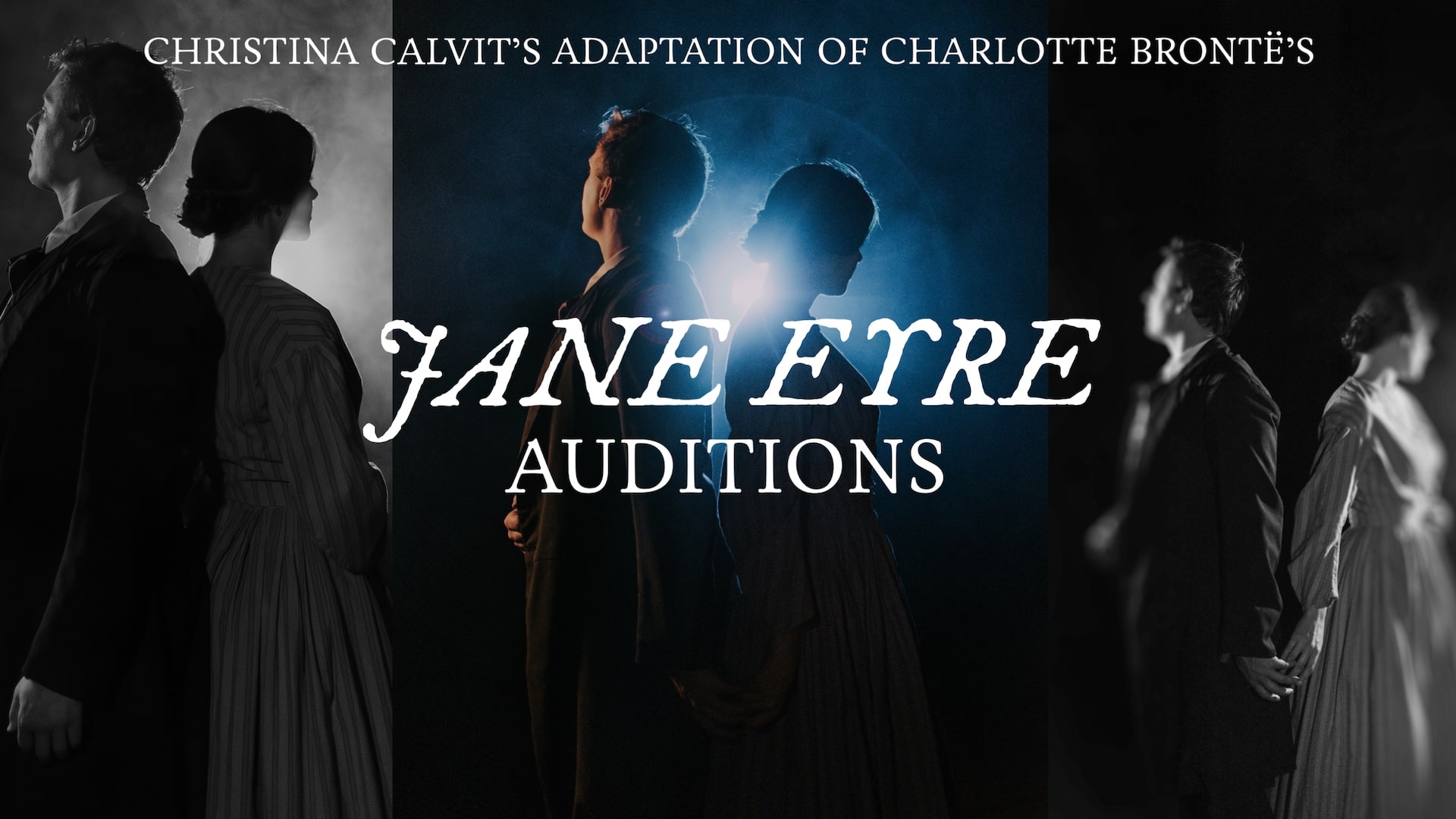 Announcing Auditions for
Jane Eyre
Christina Calvit, Author
Director: Charlotte Myhre Shealy
Please reach out to her with any questions at charlotte.myhre@springhousesmyrna.com.
Audition Dates:
Sunday, November 12, 6:30-9:30 PM
Monday, November 13, 6:30-9:30 PM
CALLBACKS Wednesday, November 15, 6:30-9:30 PM
What to Bring:
Auditions will be cold reads from the script, no need to prepare any material ahead of time. We will be using British accents, bring your best try 🙂
If you have a resume and headshot, bring a printed copy.
Plan to tell us your conflicts January 7 through March 3, 2024.
Rehearsal/Show Dates:
Rehearsals will take place Sundays, Mondays, Tuesdays, and Wednesdays.
Performances are February 16, 17, 23, 24, March 1, 2, 3.
Characters Breakdown:
All roles are available to any ethnicity. Listed ages are based on the ages actors will portray on stage.
JANE EYRE – Age 18-30, female. Jane was an orphan child who has experienced very little love or care in her life. In her youth she was neglected and abused, first by her Aunt Reed and then by Mr. Brocklehurst, the cruel headmaster of Lowood School where she was sent until adulthood. She has grown to be a strong-willed, intelligent and independent young woman, but has no expectation that she will ever be loved or valued by others. She is immediately attracted to the gruff Mr. Rochester, sensing in him the same kind of pain that she has experienced herself.
EDWARD ROCHESTER – Age 30-40, male. Although he has lived a life of privilege, Edward Rochester has experienced great darkness and pain. He is arrogant, jaded and moody, but possesses a biting wit and wicked sense of humor that few around him perceive. He is bewitched by Jane's intellect and strength and begins to hope that her love can redeem him.
HELEN BURNS ­– Age 10-16, female. Helen is Jane's first friend. She appears to Jane even after her death as a ghost. She is a guiding light and a warning.
MRS. REED – Age 30-60, female. Jane's villainous aunt, she begrudgingly raised Jane and later appears throughout the story as a ghost to haunt Jane.
MR. BROCKLEHURST – Age 30-60, male. The villainous headmaster of Jane's childhood school, he appears throughout the story as a ghost to haunt Jane.
MRS. FAIRFAX – Age 30+, female. She is Rochester's housekeeper. She genuinely wants the best for Jane.
ADELE – Age 7-10, female. Adele is Rochester's ward. Jane is her governess and she sees Jane as a mother figure. She sings and speaks French (be prepared to learn some French at the audition with help).
GRACE POOLE – Age 30+, female. She is a mysterious, spooky woman who works in Rochester's home. Jane is extremely suspicious of Grace and the audience should not trust her either.
BLANCHE INGRAM – Age 20-30, female. Blanche is Jane's romantic rival. She is stunning, clever, and high status. She plans to marry Rochester.
MARY INGRAM – Age 18-30, female. Mary is Blanche's younger sister. She is comically quiet and clearly has been in Blanche's intimidating shadow her whole life.
LADY INGRAM – Age 40+, female. Lady Ingram is mother to Blanche and Mary. She is a snooty, air headed, high society woman. She adores her daughters.
AMY ESHTON – Age 18-30, female. Amy is friends with Blanche and Mary. She is high society and naïve.
RICHARD MASON – Age 20+, male. Mason knows secrets from Rochester's past and is trying to look out for the best interest of his sister, Bertha.
DR. CARTER – Age 20+, male. Carter is a doctor who helps Rochester cover up his secrets.
REVEREND WOOD – Age 20+, male. Wood is the Reverend who holds the marriage ceremony.
BERTHA ROCHESTER – Age 20-40, female. Bertha is Rochester's secret wife. She has gone insane and is violent.
ST JOHN RIVERS – Age 20-40, male. St. John and his sisters take in Jane when she is destitute. He is overly pious but he genuinely believes he is helping Jane.
DIANA and MARY RIVERS – Ages 18-30, female. Diana and Mary are sisters to St. John. They are sincere and immediately care for Jane. They have a devoted relationship to one another and have a fun banter together.
PORTER – Any age, any gender. The porter appears at the end of the story as a guide for Jane. They will likely be played by an actor in addition to another role.
All applicants are welcome. Springhouse Theatre is an equal-opportunity theatre, and consideration for casting will be given fairly and equitably, regardless of age, ethnicity, gender, religion, family status, or disability. 
Produced by special arrangement with Playscripts, Inc.