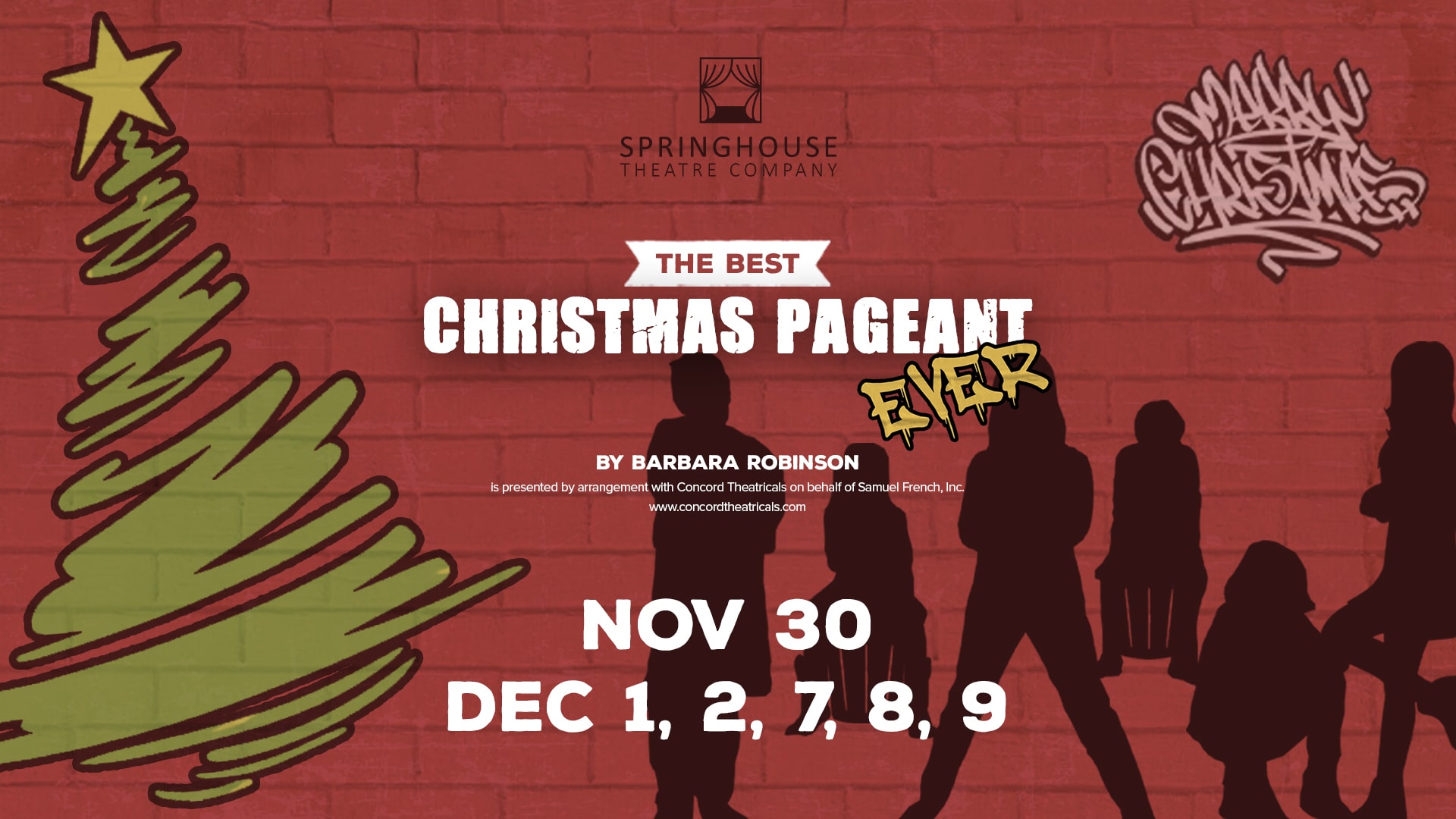 Announcing Auditions for
The Best Christmas Pageant Ever
Age is just a number! Come out and audition for this all adult cast of Best Christmas Pageant Ever, all roles available to anyone age 18+
Director: Rachael Parker
Please reach out to her with any questions at rachaelparker1224@gmail.com
Audition Dates:
Sunday, October 8, 6:30-8:00 PM or 8:30-10:00 PM
Monday, October 9, 6:30-8:00 PM or 8:30-10:00 PM
What to Bring:
Auditions will be cold reads from the script, no need to prepare any material ahead of time.
If you have a resume and headshot, bring a printed copy.
Plan to tell us your conflicts now through Dec 10th
Rehearsal/Show Dates:
Rehearsals will take place Sundays, Mondays, and Wednesdays
Performances are Nov 30th, Dec 1, 2, 7, 8, 9, 10
Characters Breakdown:
"Adult" Roles
GRACE BRADLEY (MOTHER) – A main role who takes over the annual Christmas pageant; mother to Beth and Charlie; wife to Bob.
BOB BRADLEY (FATHER) – Husband to Grace and father to Beth and Charlie. A solid family man.
MRS. ARMSTRONG – Managerial, in voice and manner; largish, bossy, impatient.
MRS. SLOCUM – Pleasant, motherly woman
MRS. CLARK – Pleasant, motherly woman
MRS. CLAUSING – Pleasant, motherly woman
MRS. McCARTHY – A younger, less imperious version of Mrs. Armstrong
REVEREND HOPKINS – A nervous-about-most-everything pastor
FIREFIGHTERS
"Child" Roles
BETH BRADLEY – A lead role who the show's narrator. Grace/Bob's daughter.
CHARLIE BRADLEY – Beth's brother – the typical kid brother.
THE HERDMANS — "the worst kids in the history of the world."

RALPH – The oldest Herdman; ragged, scroungy, slouching manner, touch of adolescent cool.
IMOGENE – Loud, bossy, tough, crafty. The Herdman leader.
LEROY – Tough, very sure of himself.
CLAUDE – Tough, combative. A crime buddy to Ollie.
OLLIE – Boy or girl.  Always looking for trouble. Claude's usual partner in crime.
GLADYS – Small, wiry, feisty.  Often funny; sometimes means it.

ALICE WENDLEKEN – Prim, proper, pain in the neck
MAXINE – Beth's church Sunday school classmate.
ELMER – The minister's son; dislikes forced church activities; not fond of the Herdmans.
HOBIE, DAVID, BEVERLY, JUANITA, DORIS – Other church kids who are involved in the pageant.
ADDITIONAL ROLES – Angel Choir members & shepherds
All applicants are welcome. Springhouse Theatre is an equal-opportunity theatre, and consideration for casting will be given fairly and equitably, regardless of age, ethnicity, gender, religion, family status, or disability. 
"The Best Christmas Pageant Ever" is presented by arrangement with
Concord Theatricals on behalf of Samuel French, Inc.