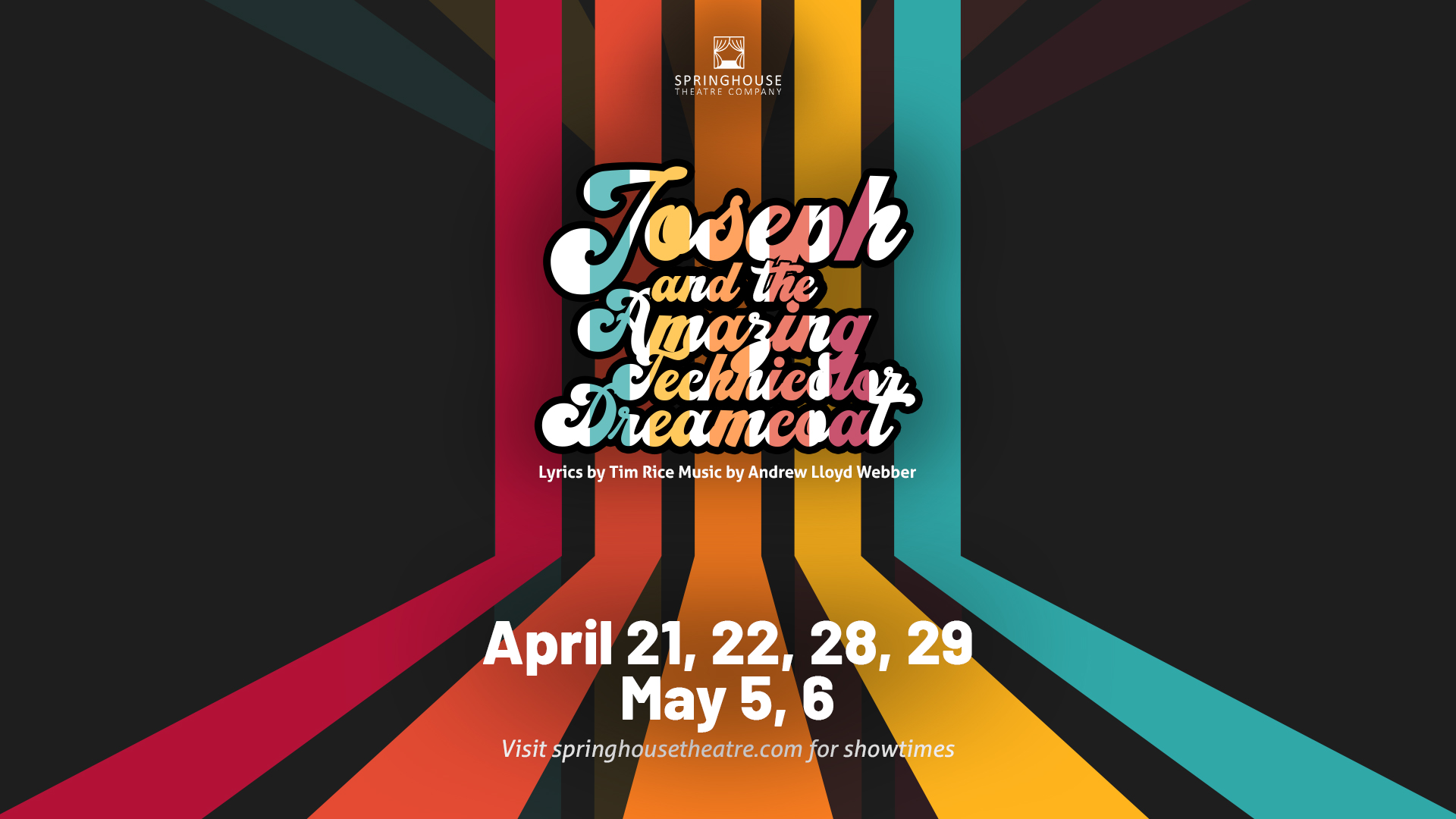 Announcing Auditions for
JOSEPH AND THE AMAZING TECHNICOLOR DREAMCOAT!
Lyrics by Tim Rice Music by Andrew Lloyd Webber
Production dates are April 21, 22, 28, 29, May 5, and 6.
Rehearsals are mainly on Mondays, Tuesdays, and Wednesday evenings, with a few weekend exceptions.
There are 4 audition time slots. No reservation required.
Feb 11 from Noon – 1:30 PM
Feb 11 from 1:30 – 3:00 PM
Feb 13 from 6:30 – 8:00 PM
Feb 13 from 8:00 – 9:30 PM.
Auditionees need to arrive 10 minutes before the audition slot begins.
Due to the nature of the production, auditionees will learn choreography and a song from the show. We are not accepting monologues for this audition. Each performer will learn a portion of a song in a group and then sing individually.
Men – Any Dream Will Do
Women – Jacob and Sons
Possible call-backs for the leading roles are scheduled for Feb 15.
CHARACTER BREAKDOWN
Narrator – Strong female lead, Soprano with strong belt, any age
Joseph – Tenor / BariTenor, youthful appearance with strong leading man and everyman qualities
Pharaoh – Baritone or Tenor, "frontman" type entertainer
Jacob – Joseph's Father, Baritone, Age 55+
Joseph's 11 Brothers – Male, age range of 18 – 50 years, strong dancers, all vocal ranges
Brothers' Wives – Female, age range of 18 – 50 years, strong dancers, all vocal ranges
Potiphar – Baritone, age range 30-45
Mrs. Potiphar – Mezzo/Alto, Age range 25-40
Butler – Tenor or Baritone, any age
Baker – Tenor or Baritone, any age
Adult ensemble – Dancers who sing well
Children's chorus – ages 8 – 12, all vocal ranges
All applicants are welcome. Springhouse Theatre is an equal-opportunity theatre, and consideration for casting will be given fairly and equitably, regardless of age, ethnicity, gender, religion, family status, or disability.
JOSEPH AND THE AMAZING TECHNICOLOR DREAMCOAT is presented by arrangement with Concord Theatricals on behalf of The Really Useful Group. www.concordtheatricals.com