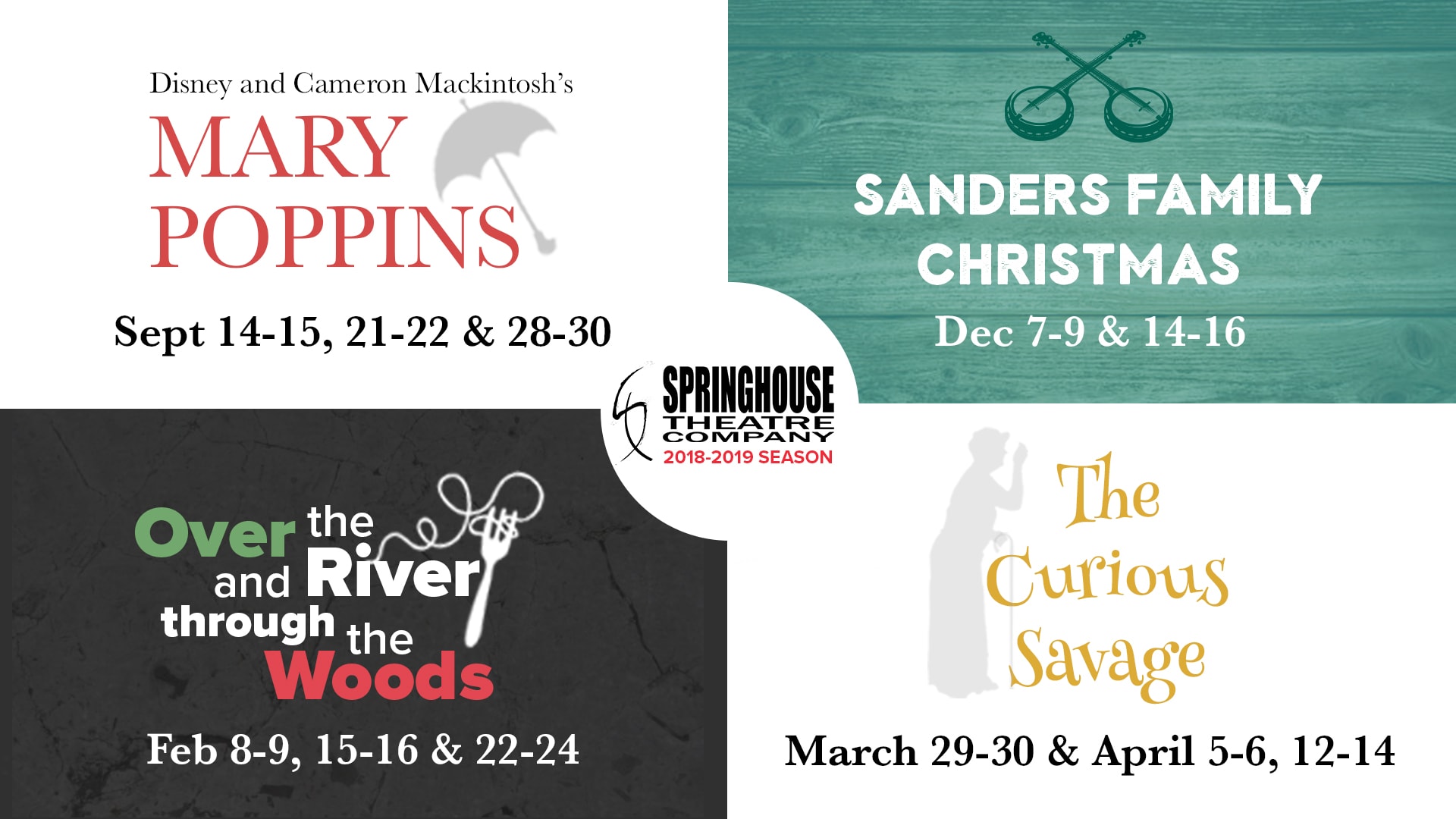 September 14,15,21,22,28,29,30
Mary Poppins arrives as if by magic and brings her peculiar ideas about raising children to the regimented Banks household. In the process we learn that anything can happen, especially magic, and that perhaps the children aren't the only ones being changed by Mary. Come share the joy with us and leave humming and singing one of the most memorable scores ever including such sings as: A Spoonful of Sugar, Chim Chim Cheree, and of course Super‐cali‐fragil‐istic‐expi‐ali‐docious.
December 7,8,9,14,15,16
Anyone who saw last year's Smoke on the Mountain will no doubt be eager for the return of the Sanders family to the Mount Pleasant Baptist Church. Will Rev. Oglethorpe pop the question to June? Has Vera taught anymore Sunday School lessons with bugs? Which of the twins turn is it to go to Bible School? It's Christmas, the stories will be engaging, the music will be entertaining, and you will be so glad you came and brought the whole family for this delightful holiday treat.
February 8,9,15,16,22,23,24
We did this show some five years ago in our Black Box Theatre. Virtually everyone who came to see it insisted, "You have to do this on the main stage!" Well, here we are. A young man in New York is offered a great promotion on the West Coast, but how does he break such news to his two sets of Italian grandparents? They might even conspire to line him up with an Irish girl to get him to stay. You will laugh (like out loud laugh) and you may even shed a sweet tear, but you will certainly not regret discovering this jewel of a show.
The Curious Savage
March 29,30, April 5,6,12,13,14
Ethel P. Savage was recently widowed by her millionaire husband who left her in charge of a fortune. She would like to spend it to make people happy. Her adult step children which includes a Senator, a Judge, and a Socialite have other ideas and endeavor to have her declared incompetent. The play takes place in The Cloisters sanatorium, and while there Ethel meets a collection of inmates who seem to have a better grasp of what it means to be sane than those on the outside. Ethel turns out to be pretty clever herself. It is a comedy but has elements of mystery and a clever surprise ending.