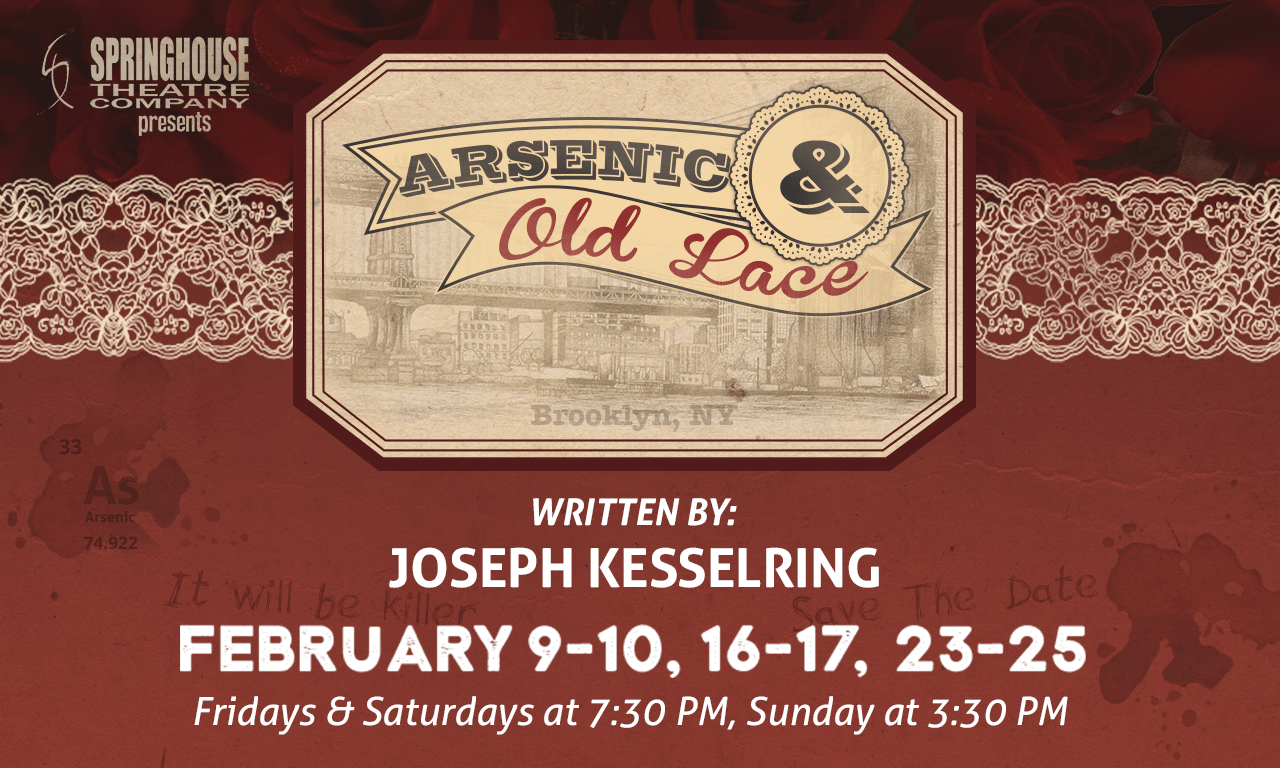 Written by Joseph Kesselring
About Arsenic and Old Lace:
You'll enjoy this delightful play featuring Mortimer Brewster, who leads a happy normal life and begins to discover that his family isn't quite as normal as he believed – and all because of a fateful trip to visit his sweet spinster aunts following his engagement.
Sure, he knew that his brother wasn't actually Teddy Roosevelt but when his maniacal brother, Jonathan, returns as his aunts are planning to bury their next poisoning victim, Mortimer must rally his aunts and protect his fiancée—all while trying to keep his own sanity.
Performance Dates
February 9, 7:30 PM
February 10, 7:30 PM
February 16, 7:30 PM
February 17, 7:30 PM
February 23, 7:30 PM
February 24, 7:30 PM
February 25, 3:30 PM (matinee)
Meet the Cast!
Director: Michael Hendrickson
Margaret Meek / Abby Brewster
Margo Ford / Martha Brewster
Will Sevier / Mortimer Brewster
Katie Del Rocco / Elaine Harper
Stephen Belk / Teddy Brewster
Ian Stewart / Jonathan Brewster
Tony Wakefield / Dr. Einstein
Warren Sager / Rev. Harper and Mr. Gibbs
Aaron Warren / Officer O'Hara
Matthew Hendrickson / Officer Brophy
Lucas Dand / Officer Klein
Dani Amendola / Lt. Rooney
Alan Smith / Mr. Witherspoon
Photo Credit: David Warren
Photo Credit: Kenn Stilger
Arsenic and Old Lace is presented by special arrangement with Dramatists Play Services, Inc., New York