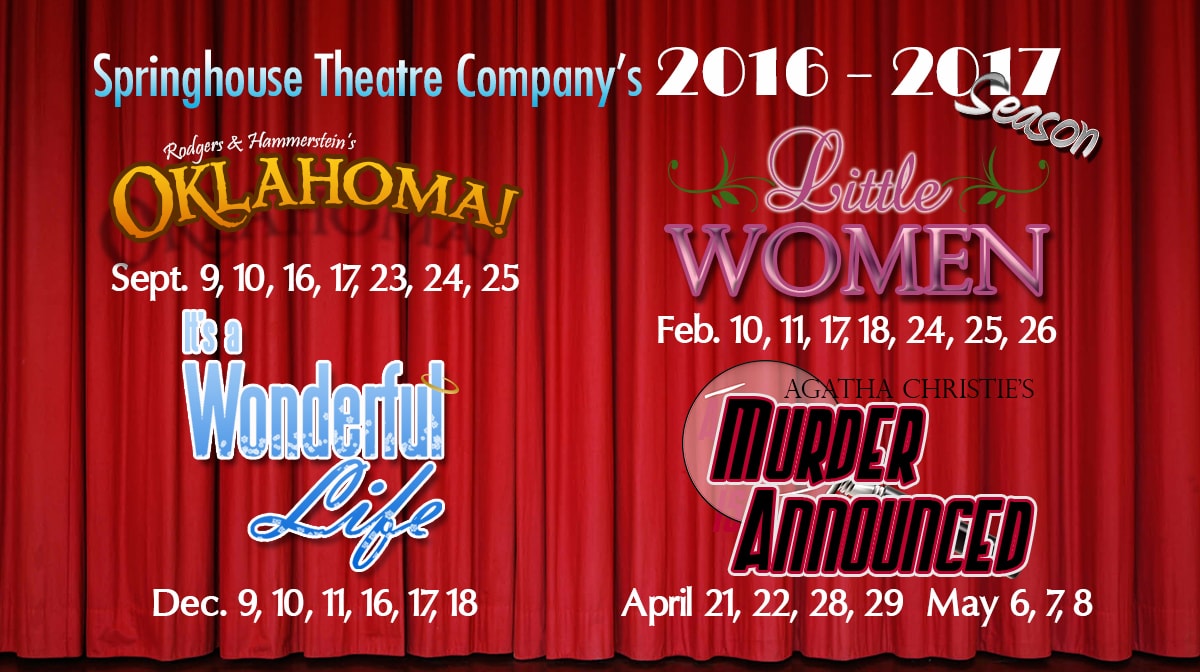 September 9, 10, 16, 17, 23, 24, 25
Rodgers & Hammerstein's classic Oklahoma! will take the stage at Springhouse Theatre Company in September 2016. From Oh, what a Beautiful Mornin'  to Loony Room and beyond, you'll enjoy the romance, the singing, wonderful story.
December 9, 10, 11, 16, 17, 18
Traditions are a significant part of the way we experience the joy of the Christmas season. Make a visit to Bedford Falls one of your traditions as you share in the classic telling of the full- stage version of It's a Wonderful Life.
February 10, 11, 17, 18, 24, 25, 26
While their father is away ministering to the troops in the Civil War, four sisters are coming of age. Despite their limited means, this quartet of vivacious girls is close and happy, walking through engagements, marriages, and illness.
April 21, 22, 28, 29, May 5, 6, 7
An announcement in the local paper states the time and place when a murder is to occur in Miss Blacklock's Victorian house. The victim is not one of the house's several occupants, but an unexpected and unknown visitor. What follows is a classic Christie puzzle of mixed motives, concealed identities, a second death, a determined Inspector grimly following the twists and turns, and Miss Marple on hand to provide the final solution at some risk to herself in a dramatic confrontation just before the final curtain.