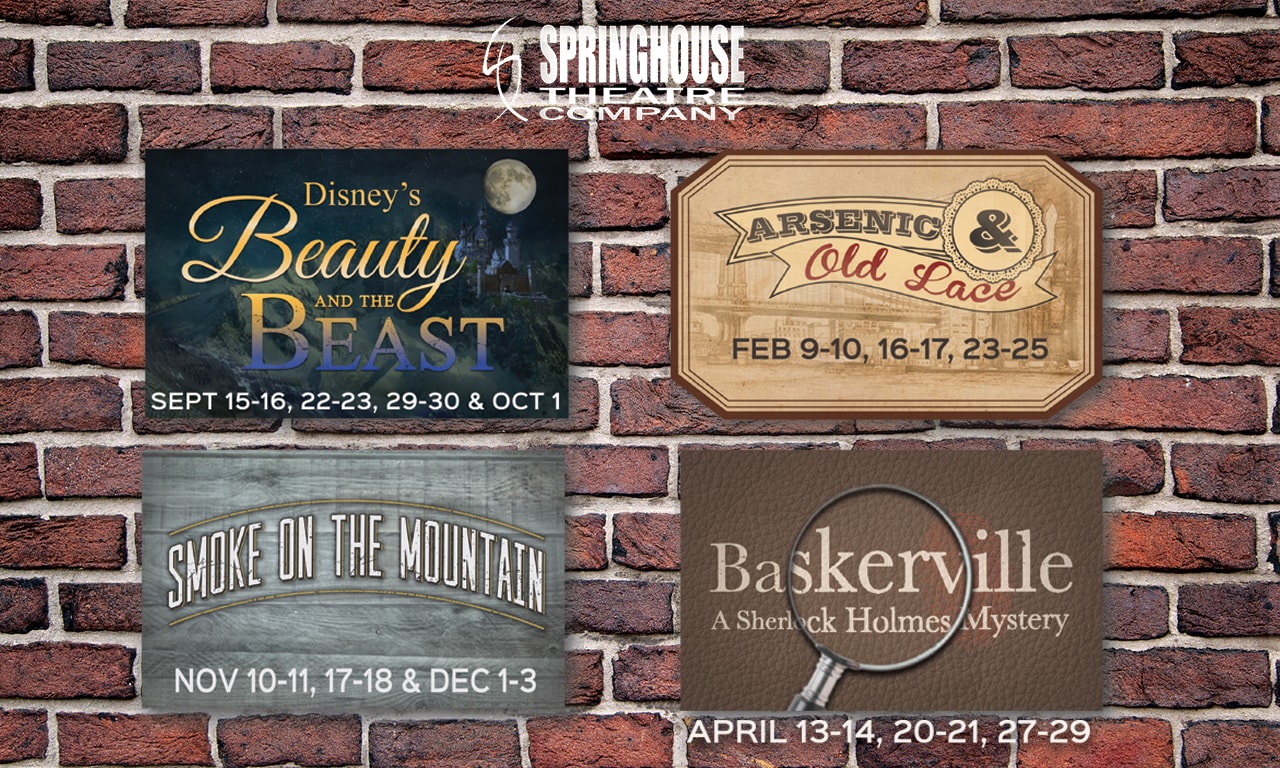 September 15, 16, 22, 23, 29, 30 & October 1
The season begins with Broadway's modern classic, Disney's Beauty and the Beast. An international sensation that has played to over 35 million people worldwide in 13 countries, Disney's Beauty and the Beast ran on Broadway for over thirteen years and was nominated for nine Tony Awards, including Best Musical. The scintillating stage version, which was based on the Academy Award-winning animated feature, includes all the wonderful songs written by Alan Menken and the late Howard Ashman, along with new songs by Mr. Menken and Tim Rice. Musical theatre at its finest, it's a tale as old as time that you'll want to share with the whole family.
November 10, 11, 17, 18 & December 1, 2, 3
Springhouse Theatre Company's next production takes you off-Broadway…way, way off Broadway…and back in time…to 1938 in the Smoky Mountains of North Carolina, where the Sanders Family pays a call on the Mount Pleasant Baptist Church. Rollicking, exhilarating, and charmingly funny, Smoke on the Mountain features two dozen rousing bluegrass songs played and sung by the Sanders Family. Between songs, each family member "witnesses" with a story about an important event in their life. By the evening's end, the Sanders Family will endear themselves to you by not only allowing you to share in their triumphs, but by revealing their weaknesses. Bring the whole family and enjoy the show the New York Post called, "Totally beguiling… foot-stomping soul food."
February 9, 10, 16, 17, 23, 24, 25
Originally conceived as a hard-boiled detective story, audiences are forever thankful that playwright Joseph Kesselring took the advice of producers Howard Lindsay and Russel Crouse, and turned Arsenic and Old Lace into a farcical black comedy. Our tale follows the misadventures of Mortimer Brewster, a drama critic who must deal with his crazy family which includes two spinster aunts who have taken to murdering lonely old men by poisoning them with a glass of home-made elderberry wine laced with arsenic, strychnine, and "just a pinch" of cyanide. There is one brother who believes he is Theodore Roosevelt, and another, more nefarious brother, who has received plastic surgery to conceal his identity, and now looks like horror-film actor Boris Karloff. (That role was originally played on Broadway by Karloff, himself.) Put them all together in one house, and hijinks ensue!
April 13, 14, 20, 21, 27, 28, 29
To round out the season, Springhouse Theatre Company takes you across the pond to the mist-shrouded moors of England, where the male heirs of the Baskerville line are being dispatched one by one. The game is afoot and Sherlock Holmes and Dr. Watson are on the case! Our intrepid investigators must decipher a dizzying web of clues, disguises, deceit and silly accents before they can save the day. Does a wild hellhound prowl the moors of Devonshire? Can our heroes discover the truth in time? Five actors deftly portray more than forty characters in a show Broadway world calls "…ingeniously funny." Join the fun and see how far from elementary the truth can be.