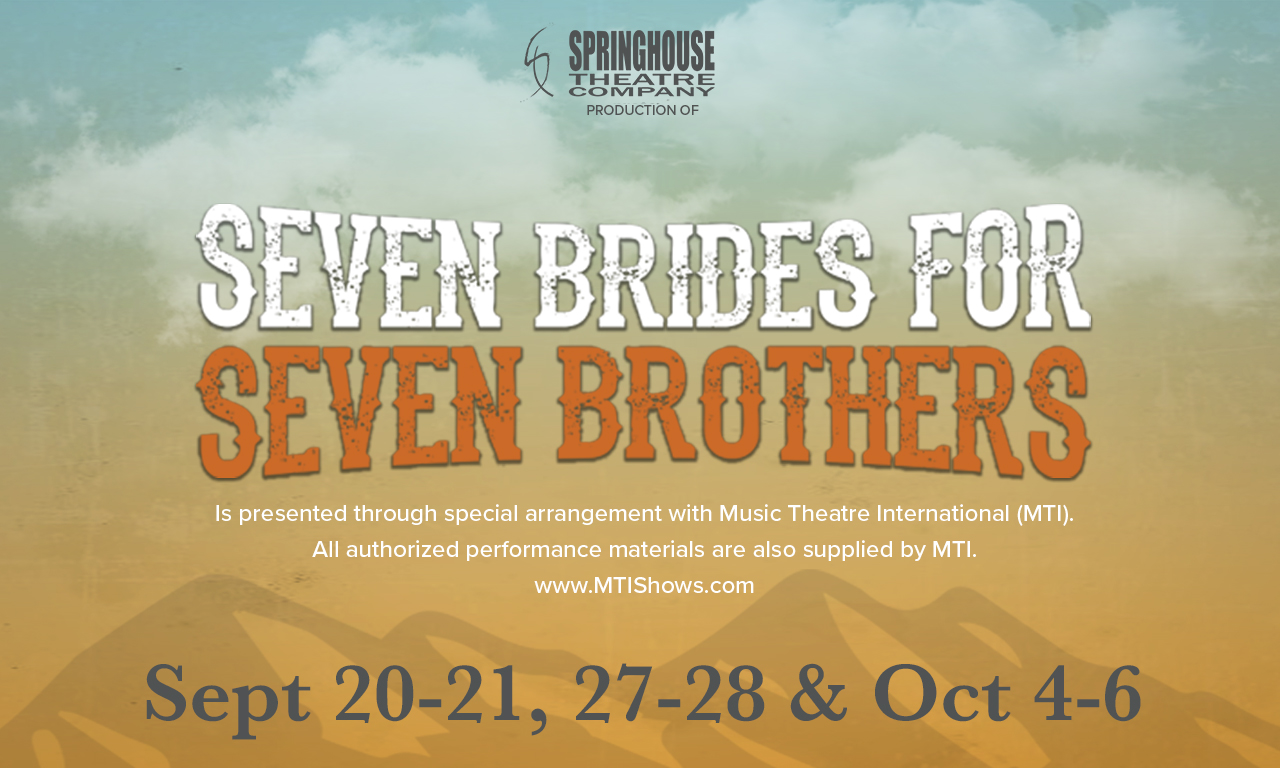 Seven Brides for Seven Brothers
Book by
LAWRENCE KASHA and DAVID LANDAY
New Songs by
AL KASHA and JOEL HIRSCHHORN
Lyrics by
JOHNNY MERCER
Music by
GENE de PAUL
New Songs by
AL KASHA and JOEL HIRSCHHORN
Based on the MGM Film and
"The Sobbin' Women" by Stephen Vincent Benet
Originally Directed for Broadway by LAWRENCE KASHA
Originally Produced on Broadway by KASLAN PRODUCTIONS, INC.
Based on the classic 1954 film,
Seven Brides for Seven Brothers
is an authentic piece of Americana, a time-tested romantic comedy with a special, contemporary relevance. The foot-stomping stage version features all those wonderful songs you loved from the film, including "Sobbin' Women," "Goin' Courtin'," "Wonderful, Wonderful Day," and of course the iconic "Bless Your Beautiful Hide," in addition to new songs, such as "Love Never Goes Away" and "Where Were You," which were written for the stage version.
The men in question are Adam and his six unruly brothers, who think they know where a woman's place is and how to keep her there. It takes Milly—Adam's wife—and six other savvy women to show them who's boss.
As a film, Seven Brides for Seven Brothers delighted audiences with its whirlwind romances, memorable songs, and iconic choreography which won the Academy Award for Best Scoring of a Musical Picture and was nominated for four additional awards, including Best Picture. In 2006, American Film Institute named Seven Brides for Seven Brothers as one of the best American musical films ever made. In 2004, Seven Brides for Seven Brothers was selected for preservation in the U.S. National Film Registry of the Library of Congress as being "culturally, historically, or aesthetically significant." Film critic Stephanie Zacharek has called the barn-raising sequence in Seven Brides for Seven Brothers "one of the most rousing dance numbers ever put on screen." The energetic and adventurous stage version also earned a Tony nomination for Best Original Score.
Patrons of Springhouse Theatre will recognize plenty of STC veterans on stage, along with some wonderful new faces. Alyssa Krebs takes on the role of "Milly" and Springhouse newcomer Callum Ammons inhabits the role of "Adam." The 40+-member cast is directed by Paula K. Parker, with musical direction by Nathaniel Paul and choreography by Elizabeth Krebs.
Musical theatre at its finest, you'll want to see Seven Brides for Seven Brothers with someone you love. After all, nobody wants to be a lonesome polecat.
Seven Brides for Seven Brothers runs September 20-21, 27-28, & October 4-6.
Performance Dates
Please Note: The lobby and box office open 1 hour before each curtain.
Seating begins 30 minutes before curtain for season ticket holders and groups.
Seating begins 20 minutes before curtain for all other patrons.
Meet the Cast!
Returning actors in Bold
Director: Paula Parker
Assistant Director
Renee Caldwell
Musical Director
Nathaniel Paul
Choreographer
Elizabeth Krebs
Stage Manager
Marcus Lackey
Milly – Alyssa Krebs
Adam – Callum Ammons
Benjamin – Chris Rowell
Caleb – Nathan Krebs
Daniel – Wil Hansen
Ephraim – Benjamin Hansen
Frank – William Hearn
Gideon – Jack Forte
Dorcas – Destiny Urie
Ruth – Elizabeth Krebs
Liza – RileyGrace Abbott
Martha – Aurora Boe
Sarah – Isabella Kearney
Alice – Kathleen Caldwell
Nathan – Xyan Clary
Luke- Stephen Thompson
Matt – Michael Ramares
Jeb – Hunter Thaw
Zeke – Tucker Young
Joel – Jordan Taylor
Townspeople
Mr. Hoallum – Phillip Whorton
Mrs. Hoallum – Ximena Lindsey
Mr. Sander – Michael Lillig
Mrs. Sander – Cindy Ellis
Reverend Book – Mike Parker
Mrs. Book – Susan Hearn
Townspeople / Ensemble
Shelby Baltimore
Rachel Baskin
Sophia Elledge
Rachel Harlan
Rachel Hortert
Lexie Hearn
Alyssa Kaye
Chris Keiningham
David Kiger
Diana Moseley
Michelle Saunders
Ashlyn Solomon
Abby Yarbrough
Milly – Alyssa Krebs
Adam – Callum Ammons
Benjamin – Chris Rowell
Caleb – Nathan Krebs
Daniel – Wil Hansen
Ephraim – Benjamin Hansen
Frank – William Hearn
Gideon – Jack Forte
Dorcas – Destiny Urie
Ruth – Elizabeth Krebs
Liza – RileyGrace Abbott
Martha – Aurora Boe
Sarah – Isabella Kearney
Alice – Kathleen Caldwell
Nathan – Xyan Clary
Luke- Stephen Thompson
Matt – Michael Ramares
Jeb – Hunter Thaw
Zeke – Tucker Young
Joel – Jordan Taylor
Mr. Hoallum – Phillip Whorton
Mrs. Hoallum – Ximena Lindsey
Mr. Sander – Michael Lillig
Mrs. Sander – Cindy Ellis
Reverend Book – Mike Parker
Mrs. Book – Susan Hearnv
Shelby Baltimore, Rachel Baskin, Sophia Elledge, Rachel Harlan, Rachel Hortert, Lexie Hearn, Alyssa Kaye, Chris Keiningham, David Kiger, Diana Moseley, Michelle Saunders, Ashlyn Solomon, Abby Yarbrough
Seven Brides for Seven Brothers is presented with special arrangements with Musical Theater International (MTI).
All authorized performance materials are also supplied by MTI.
www.MTIshows.com