Springhouse Theatre's Black Box Presents
Authors: Frances Goodrich and Albert Hackett
Goodrich and Hackett based their masterwork on the book Anne Frank:
The Diary of a Young Girl.
Anne Frank, a Jewish teenager, wrote the diary over a two-year period while she, her family, and others hid from the Nazis in the German-occupied Netherlands until their capture in 1944. Anne's father, the only survivor of the group, recovered the diary in 1945. He sold it to Dutch publishers in 1947.
An impassioned drama about the lives of eight people hiding from the Nazis in a concealed storage attic, The Diary of Anne Frank captures the claustrophobic realities of their daily existence—their fear, their hope, their laughter, their grief.
The Diary of Anne Frank runs June 21-23 and 28-30; Friday & Saturday performances are at 7:30 pm, and Sunday performances at 3:30 pm.
---
The production is being staged in the Springhouse Theatre Blackbox, which is located up one flight of stairs on the second floor, and IS NOT HANDICAPPED ACCESSIBLE.
Seating is limited. Purchase your tickets early through TicketsNashville to secure your seat. Season Ticket Holders may reserve tickets by phone or email and pay upon arrival.
In consideration of our paying customers, no children under the age of 4 yrs old will be admitted.
The theatre lobby and box office opens 1 hour before each curtain.
Seating begins 30 minutes before curtain for season ticket holders and groups.
Seating begins 20 minutes before curtain for all other patrons.
Meet the Cast!
Director: Charlotte Myhre
Stage Manager: Haydin Oechsle
Anne

 

Frank

 – Elise Piliponis
Otto 

Frank

 – Ian Stewart
Mrs. (Edith) 

Frank

 – Heather Runyan
Margot 

Frank

 – Caylin Maguire
Peter Van Daan – Matthew Schoenemann
Mrs Van Daan – Lee Witte
Mr Van Daan – Phillip Whorton
Mr Dussel – Matthew Roberts
Miep – Ariel Jacobson
Mr. Kraler – Kevin Myhre
Anne Frank – Elise Piliponis
Otto Frank – Ian Stewart
Mrs. (Edith) Frank – Heather Runyan
Margot Frank – Caylin Maguire
Peter Van Daan – Matthew Schoenemann
Mrs Van Daan – Lee Witte
Mr Van Daan – Phillip Whorton
Mr Dussel – Matthew Roberts
Miep – Ariel Jacobson
Mr. Kraler – Kevin Myhre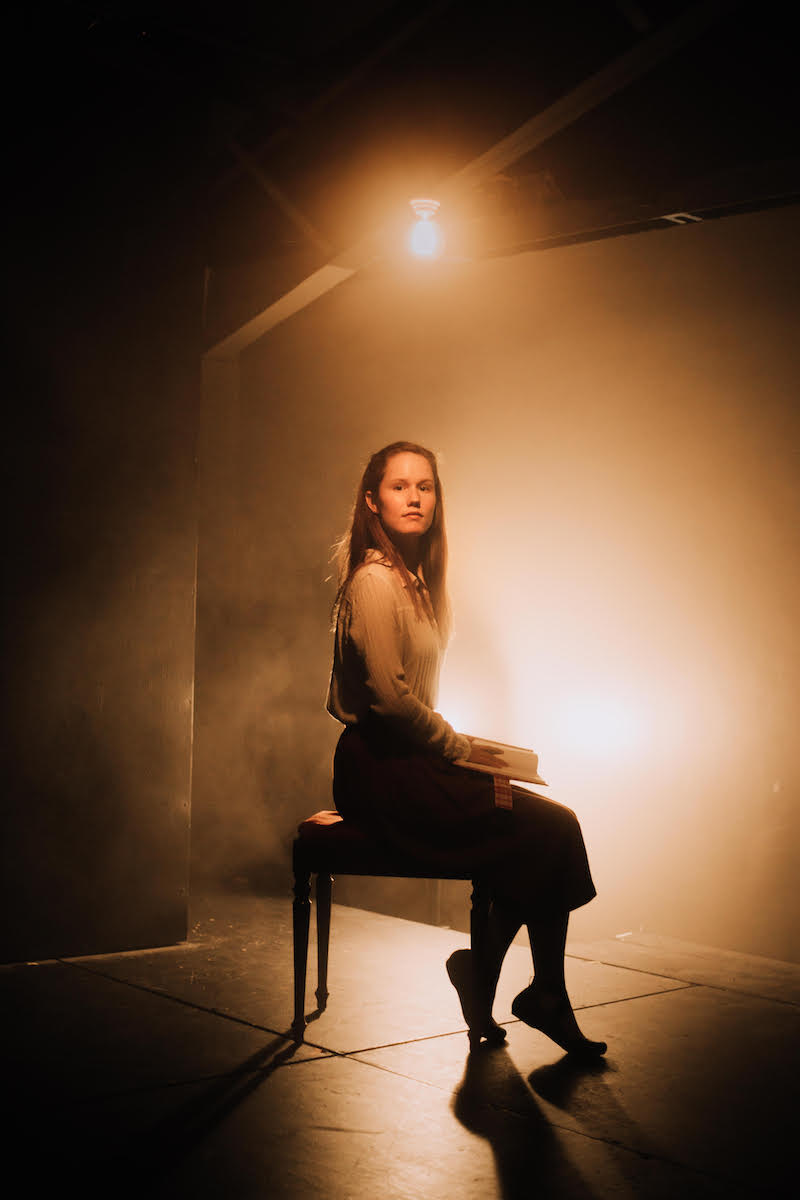 The Diary of Annd Frank is presented by special arrangement with Dramatists Play Service, Inc., New York