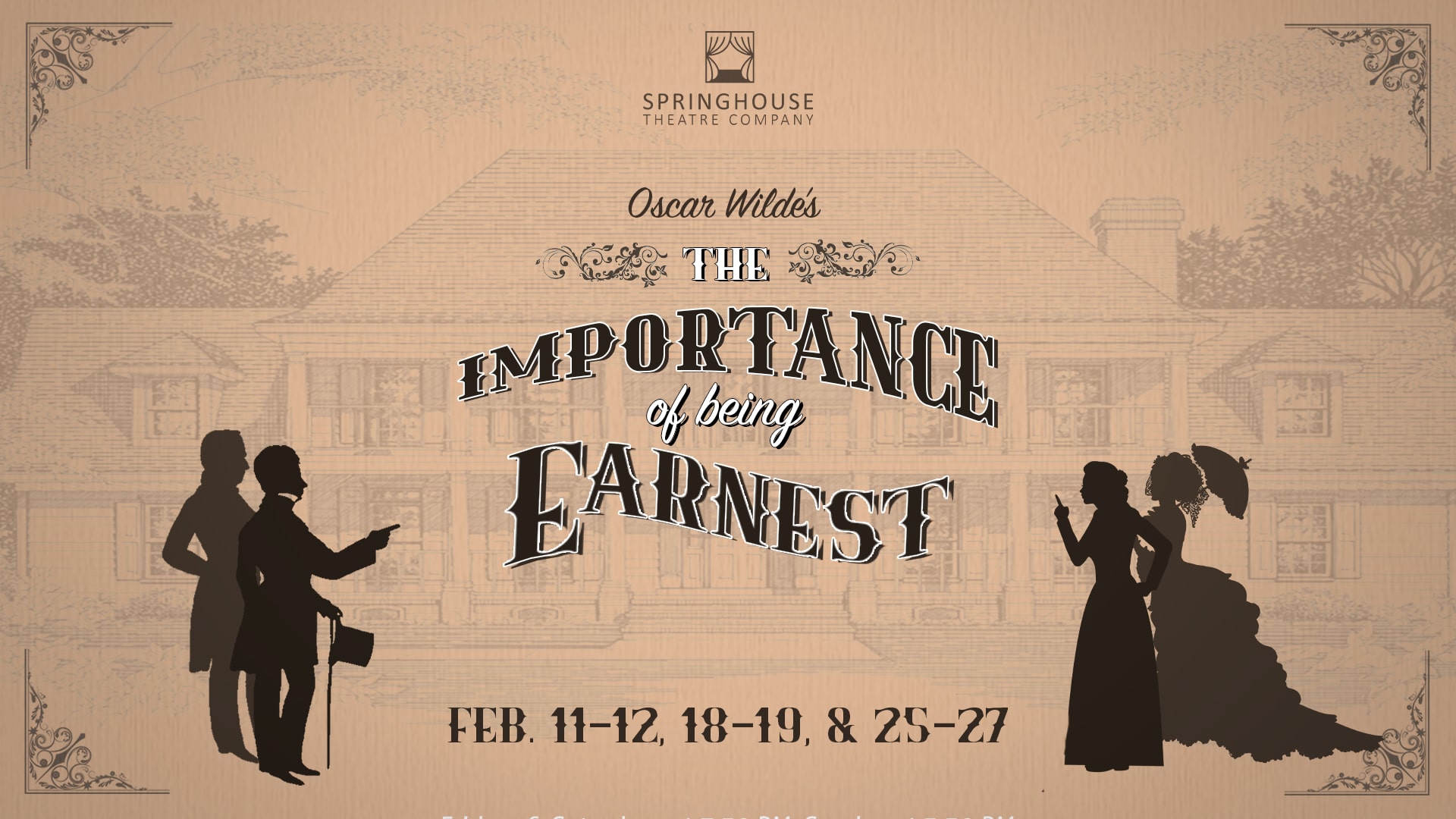 The Importance of Being Earnest
by Oscar Wilde
THE IMPORTANCE OF BEING EARNEST
is the most famous stage play by the Irish writer Oscar Wilde. It is a comedy of manners, but don't be put off by the "manners" part. You don't need to be a high brow to laugh at the escapades of high brows, especially when the wit is as truly sharp as Mr. Wilde at the top of his game. 
Not only is the script quite funny, but the plot with its twists and surprising turns will keep you totally engaged. Though this play is still widely performed, it has never been done by Springhouse Theatre before. It's time we corrected that oversight. Come and see why it still delights audiences 126 years after it first opened on Valentine's night.
The theatre lobby and box office opens 1 hour before each curtain.
Seating begins 30 minutes before curtain for season ticket holders and groups.
Seating begins 20 minutes before curtain for all other patrons.
Children under 4 years old are not permitted in the theatre.
Performance Dates
February 11, 7:30 PM
February 12, 7:30 PM
February 18, 7:30 PM
February 19, 7:30 PM
February 25, 7:30 PM
February 26, 7:30 PM
February 27, 3:30 PM (matinee)
Meet the Cast!
Director: T. Josiah Haynes
Nathan Krebs – Jack
Elizabeth Krebs – Gwendolen
Brandon Rodermond – Algernon
Kyra Siciliano – Cecily
Wendy Morrison – Bracknell
Kristina Ramsey – Miss Prism
Gary Schleimer – Dr. Chasuble
Genevieve Senden – Lana
Montgomery Sparrow – Merriman
Eric Fisher – Servant
Kyle Nicoll – Servant
Nathan Krebs – Jack
Elizabeth Krebs – Gwendolen
Brandon Rodermond – Algernon
Kyra Siciliano – Cecily
Wendy Morrison – Bracknell
Kristina Ramsey – Miss Prism
Gary Schleimer – Dr. Chasuble
Genevieve Senden – Lana
Montgomery Sparrow – Merriman
Eric Fisher – Servant
Kyle Nicoll – Servant