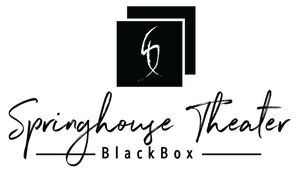 The Springhouse BlackBox is an intimate setting that will accommodate an audience of approximately 70 (depending on the staging configuration). Shows generally run for two weekends.
These shows are not included in the regular Springhouse Theatre Season, but that does not mean they are of lesser quality. Generally they are simply shows for which we have a passion but lack the commercial draw necessary to mount them in a room that seats 400. We believe they have great value, however, and that the audience for these shows will find themselves in for a quite rewarding theatre experience at a more than reasonable price.
BlackBox is a division of Springhouse Theatre Company and is on the campus of Springhouse Worship and Arts Center.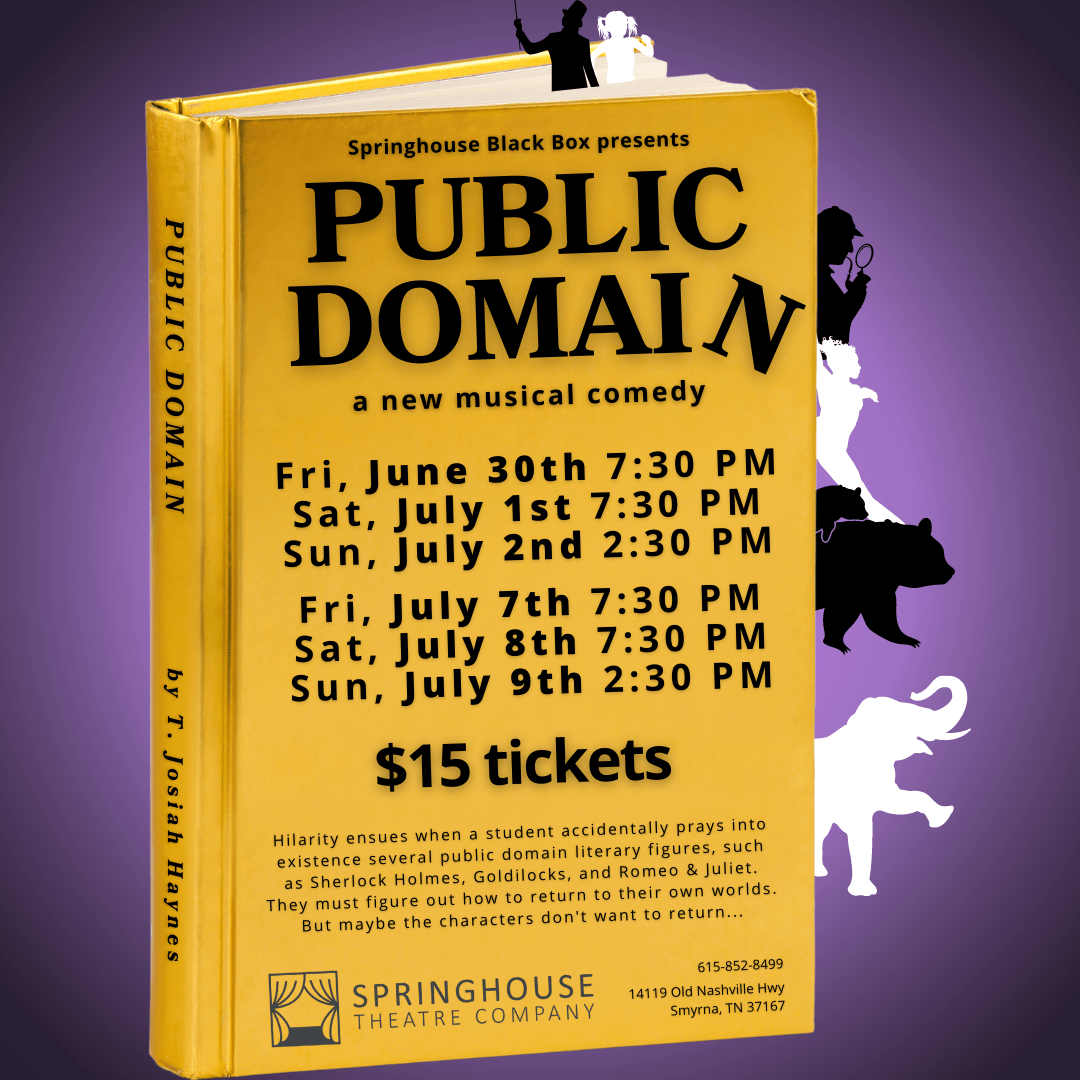 Public Domain
By: T. Josiah Haynes
Hilarity ensues when a student accidentally prays into existence several public domain literary figures, such as Sherlock Holmes, Goldilocks, and Romeo & Juliet. They must figure out how to return to their own worlds. But maybe the characters don't want to return…
Your receipt is your ticket. Be prepared to present it upon arrival. Print or digital accepted.
Performance Dates:
Jun3 30, 7:30 PM

July 1, 7:30 PM

July 2, 2:30 PM (matinee)
July 7, 7:30 PM 

July 8, 7:30 PM

July 9, 2:30 PM (matinee)

The theatre lobby and box office opens 1 hour before each curtain.
Seating begins 30 minutes before curtain for all patrons.
Children under 4 are not admitted to the theatre.
Anya Bragg as ADELAIDE
Kyle Nicoll as BELMONT
Sam Downer as SHERLOCK
Charlie Mack as WATSON
Keith Heim as PAPA BEAR
Charlotte Myhre Shealy as BABY BEAR
Ashley Wheeler as MAMA BEAR
Grace Montague as GOLDILOCKS
Andy Hutton as ROMEO
Diana Moseley as JULIET
Gary Schleimer as MORIARTY
Sarah Boyd as ZOE
Blake Conover as DOCTOR
Tonya Ingram as MINION
Kathryn Vasquez Mast as MINION
Kate Partida as MINION
Treva Marquis as MINION
Marsha Allen as MINION
Patty Chappell as WOMAN
Maddie Ingram as GIRL
Dave Ingram as LAW OFFICER
Joshua Mast as ENSEMBLE
Anya Bragg as ADELAIDE
Kyle Nicoll as BELMONT
Sam Downer as SHERLOCK
Charlie Mack as WATSON
Keith Heim as PAPA BEAR
Charlotte Myhre Shealy as BABY BEAR
Ashley Wheeler as MAMA BEAR
Grace Montague as GOLDILOCKS
Andy Hutton as ROMEO
Diana Moseley as JULIET
Gary Schleimer as MORIARTY
Sarah Boyd as ZOE
Blake Conover as DOCTOR
Tonya Ingram as MINION
Kathryn Vasquez Mast as MINION
Kate Partida as MINION
Treva Marquis as MINION
Marsha Allen as MINION
Patty Chappell as WOMAN
Maddie Ingram as GIRL
Dave Ingram as LAW OFFICER
Joshua Mast as ENSEMBLE