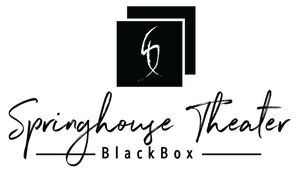 The Springhouse BlackBox is an intimate setting that will accommodate an audience of approximately 70 (depending on the staging configuration). Shows generally run for two weekends and admission prices are typically $10 for plays and $12 for musicals.
These shows are not included in the regular Springhouse Theatre Season, but that does not mean they are of lesser quality. Generally they are simply shows for which we have a passion but lack the commercial draw necessary to mount them in a room that seats 400. We believe they have great value, however, and that the audience for these shows will find themselves in for a quite rewarding theatre experience at a more than reasonable price.
BlackBox is a division of Springhouse Theatre Company and is on the campus of Springhouse Worship and Arts Center.
Please Note: unfortunately the BlackBox is not handicap accessible.
These Shining Lives
By: Melanie Marnich
THESE SHINING LIVES chronicles the strength and determination of women considered expendable in their day, exploring their true story and its continued resonance. Catherine and her friends are dying, it's true; but theirs is a story of survival in its most transcendent sense, as they refuse to allow the company that stole their health to kill their spirits—or endanger the lives of those who come after them.
This production will be socially distanced with assigned seating and masks will be required.
Your receipt is your ticket. Be prepared to present it upon arrival. Print or digital accepted.
Performance Dates:
April 23, 7:30 PM

April 24, 7:30 PM

April 25, 3:30 PM

April 30, 7:30 PM

May 1, 7:30 PM

May 2, 3

:30 PM
The theatre lobby and box office opens 1 hour before each curtain.
Seating begins 30 minutes before curtain for all patrons.
Children under 4 are not admitted to the theatre.
Answers to your questions:
We've had some questions come in, so we'd like to answer them here, in case you were wondering the same thing.
Is THESE SHINING LIVES part of the regular season?
No. THESE SHINING LIVES is a Black Box Theatre production that we are presenting on the main stage. Normally, a show like this would be in our smaller venue, but we wanted to make sure we had the space to seat everyone comfortably and safely, in compliance with our local health recommendations.
I have season tickets. Do I have to pay extra for THESE SHINING LIVES?
No. Normally, Black Box Theatre productions are not included with your season tickets and would cost extra. However, because we have postponed the regular season, we would like for our 2019/2020 season ticket holders to be able to attend this show for free with reservation. Please call or email to make your reservation, and we'll be glad to see you.
Will the theatre be completely full?
No. We intentionally chose to present a Black Box Theatre production on the main stage in order to allow enough space to seat you at a safe distance. We will be assigning seating, have capped the audience at 50% capacity, and have additional health protocols in place.
Are face coverings required?Yes. We are requiring that all audience members and house staff wear face coverings for the safety of our patrons, actors, and crew.
THESE SHINING LIVES is presented by special arrangement with Dramatists Play Service, Inc., New York