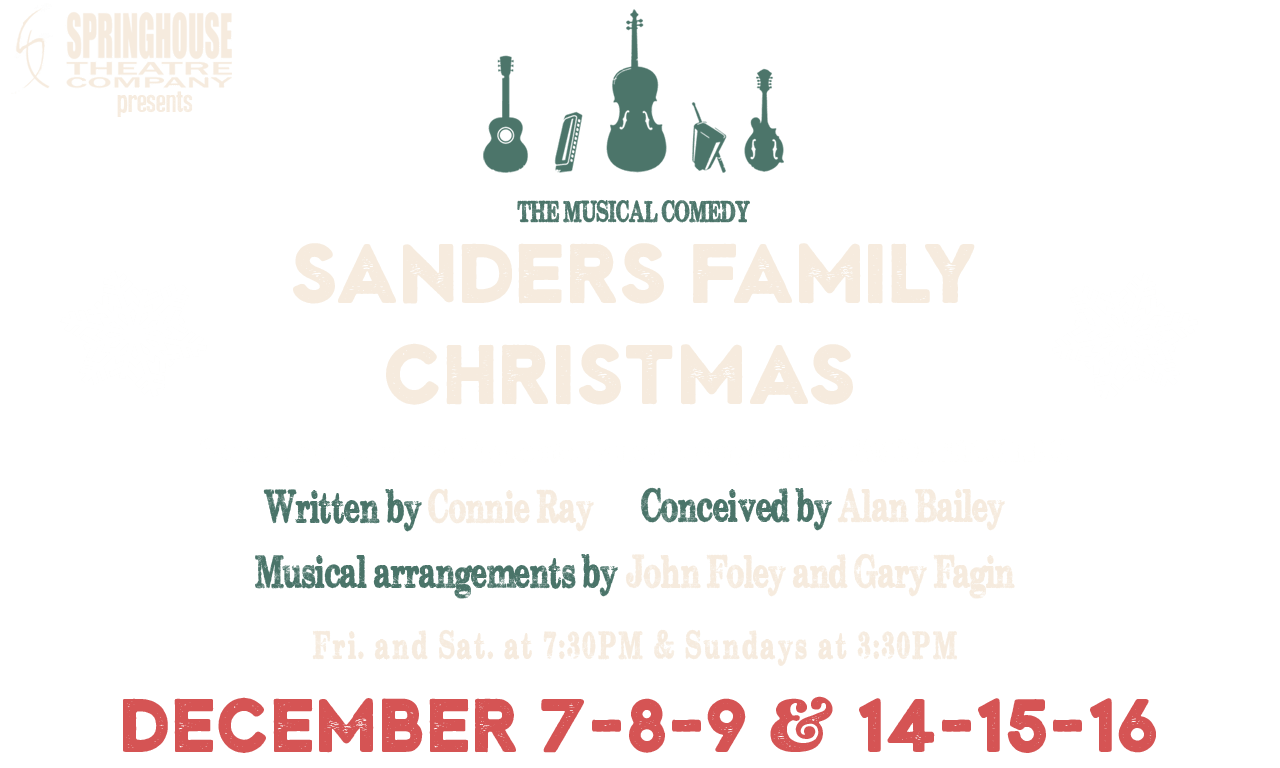 Sanders Family Christmas
Springhouse Theatre Company
More Than You Expected

Lived in Smyrna eight years and had never gone to this theater. Wow. What a jewel we have in Smyrna. I will be attending all performances now. Truly top notch. Watch out TPAC. David
I came to the show last night, and it was superb. Y'all really did quite an amazing job! Now I just have to wait for Fiddler on the Roof. Caitlyn
Great show last night! We so enjoyed your performance and the great cast! !!!!!!!!!!!! The play was as good as the book…. Becky
I went to see The Giver last night at Springhouse Theatre. Okay let me start by saying I have never read this book. I loved this play! There were times that I felt like there was no one else in the theater but me. I laughed and I cried and I audibly gasped. I was very surprised that I was so incredibly pulled in to this sameness world! Great job!
Audition Call for "Over the River and Through the Woods"
Springhouse Theatre Company and Director Marcus Lackey announce auditions for OVER THE RIVER AND THROUGH THE WOODS by Joe Dipietro. Auditions will be cold readings from the script; a comedic monologue is welcomed but not required. Headshot and resume are also welcomed but not required. Show dates are: Feb 8-9, 15-16, & 22-24.
Auditions:
December 10, from 6pm – 9pm
December 11, from 6 pm – 9 pm
Location: Springhouse Theater Company, Smyrna TN
All Roles available:
Nick: Late 20's early 30's
Frank and Aida: Nick's maternal grandparents
Nunzio and Emma: Nick's paternal grandparents
Caitlin: Mid 20's to early 30's
About OVER THE RIVER AND THROUGH THE WOODS
Nick is a single, Italian-American guy from New Jersey. His parents retired and moved to Florida. That doesn't mean his family isn't still in Jersey. In fact, he sees both sets of his grandparents every Sunday for dinner. This is routine until he has to tell them that he's been offered a dream job. The job he's been waiting for—marketing executive—would take him away from his beloved, but annoying, grandparents. He tells them. The news doesn't sit so well. Thus begins a series of schemes to keep Nick around. How could he betray his family's love to move to Seattle, for a job, wonder his grandparents? Well, Frank, Aida, Nunzio and Emma do their level best, and that includes bringing to dinner the lovely—and single—Caitlin O'Hare as bait…we won't give the ending away here.
A hilarious family comedy that is even funnier than his long-running musical revue I Love You, You're Perfect, Now Change. —BackStage. "Loaded with laughs every step of the way. —Star-Ledger
For more information please contact the director Marcus Lackey at maralalac@gmail.com.
Auditions in your Inbox
If you'd like to have audition and performance announcements delivered to your email inbox, click the button and send us your info. We'll take care of the rest.
Springhouse Theatre Company
Springhouse Theatre Company 14119 Old Nashville Hwy Smyrna, TN 37167