Springhouse Theatre Company
More Than You Expected
Springhouse Theatre Company
More Than You Expected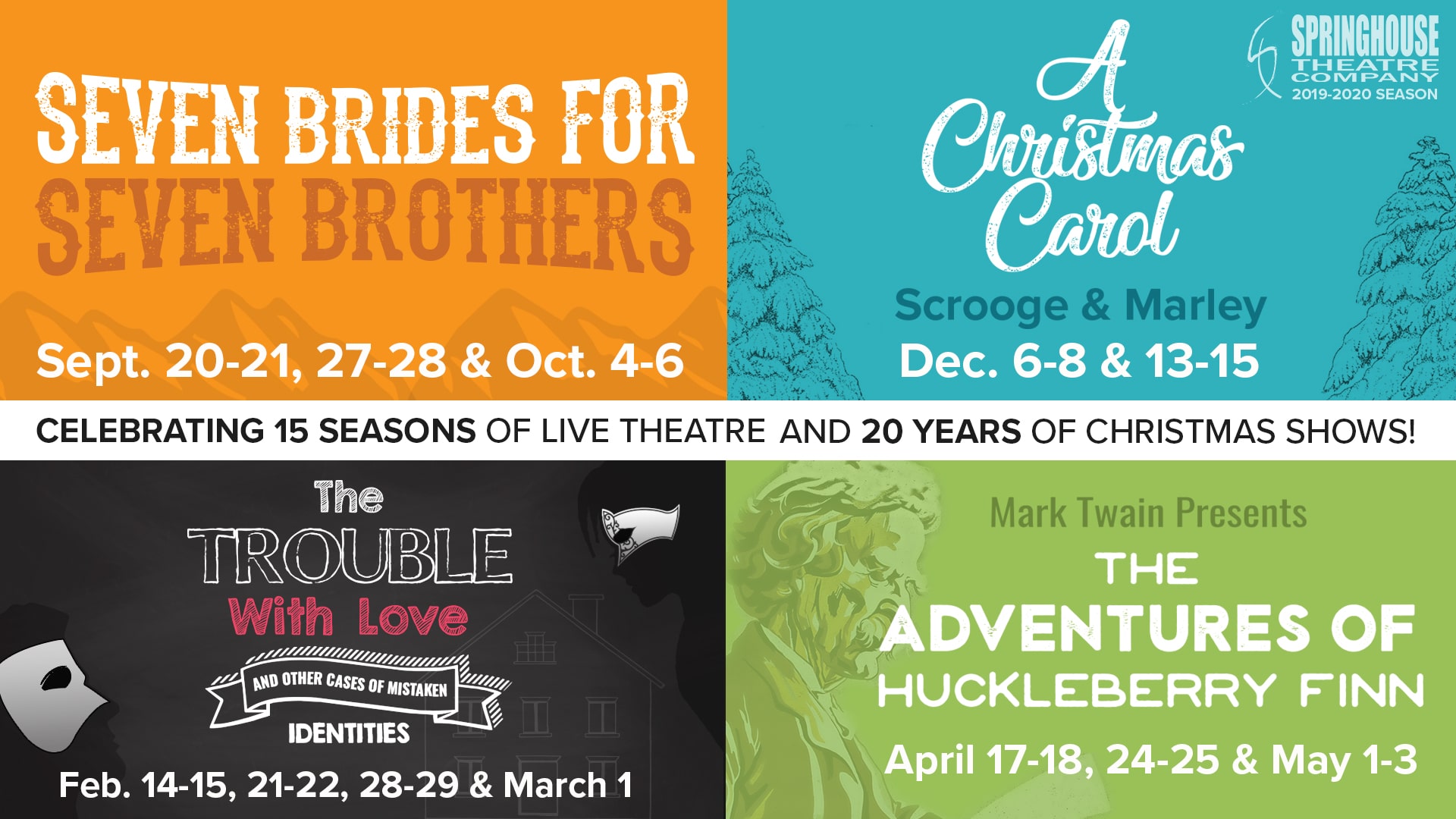 Lived in Smyrna eight years and had never gone to this theater. Wow. What a jewel we have in Smyrna. I will be attending all performances now. Truly top notch. Watch out TPAC.
I came to the show last night, and it was superb. Y'all really did quite an amazing job! Now I just have to wait for Fiddler on the Roof.
Great show last night! We so enjoyed your performance and the great cast! !!!!!!!!!!!! The play was as good as the book….
I went to see The Giver last night at Springhouse Theatre. Okay let me start by saying I have never read this book. I loved this play! There were times that I felt like there was no one else in the theater but me. I laughed and I cried and I audibly gasped. I was very surprised that I was so incredibly pulled in to this sameness world! Great job!
Springhouse Theatre Company and director Paula Parker have announced the dates for auditions of Seven Brides for Seven Brothers. The show opens their 2019-2020 season and will run September 20-21, 27-28 & October 4-6, 2019.
Audition Location: Springhouse Theatre Company, 14119 Old Nashville Hwy, Smyrna, TN, 37167.
Auditions Dates:

Sunday, July 7: 2PM – 8PM
Monday, July 8: 6:30PM-9:30PM
Callbacks: Tuesday, July 9: 6:30-9:30

Auditionees need to be prepared to dance, sing the required song, and perform a 1-minute monologue. NOTE: Please time your monologue. We will have someone on the clock, and we will stop you at precisely 1 minute.
Email 7B7BAuditions@gmail.com to request the audition form and required song. Please include a picture of yourself. It can be a digital copy of a professional headshot or one taken by a cellphone; we want to be able to see your face clearly.
Callbacks: Tuesday, July 9, 6:30-9:30
Besides additional singing, auditionees will be provided sides from the script for group readings.
For questions about auditions, email 7B47BAuditions@gmail.com
About Seven Brides for Seven Brothers
Based on the classic 1954 film, Seven Brides for Seven Brothers is an authentic piece of Americana, a time-tested romantic comedy with a special, contemporary relevance. Bringing the raucous Oregon frontier from the screen to the stage, it is a crowd-pleasing hit that has audiences cheering from the opening scene to the curtain call. So, saddle up for a joyride in this tale of stubborn men and cunning women.
The men in question are Adam and his six unruly brothers, who think they know what a woman's place is and how to keep her there. It takes Milly, Adam's spirited new wife, and six other savvy women to show them who's boss.
As a film, Seven Brides for Seven Brothers delighted audiences with its whirlwind romances, memorable songs, and iconic choreography, and this energetic and adventurous staged version does the same. The film won the Academy Award for Best Scoring of a Musical Picture and was nominated for four additional awards, including Best Picture. In 2006, American Film Institute named Seven Brides for Seven Brothers as one of the best American musical films ever made. In 2004, Seven Brides for Seven Brothers was selected for preservation in the U.S. National Film Registry of the Library of Congress as being "culturally, historically, or aesthetically significant." Film critic Stephanie Zacharek has called the barn-raising sequence in Seven Brides one of the most rousing dance numbers ever put on screen."
SEVEN BRIDES FOR SEVEN BROTHERS; Book by LAWRENCE KASHA and DAVID LANDAY; Lyrics by JOHNNY MERCER; Music by GENE de PAUL; New Songs by AL KASHA and JOEL HIRSCHHORN; Based on the MGM Film and "The Sobbin' Women" by Stephen Vincent Benet; Originally Directed for Broadway by LAWRENCE KASHA; Originally Produced on Broadway by KASLAN PRODUCTIONS, INC
Seven Brides for Seven Brothers is presented with special arrangements with Musical Theater International (MTI). All authorized performance materials are also supplied by MTI. 423 W. 55th Street, New York, NY, 10019; Tel: (212) 541-4684; Fax: (212)397-4684; www.MTIshows.com
Auditions in your Inbox
If you'd like to have audition and performance announcements delivered to your email inbox, click the button and send us your info. We'll take care of the rest.
Springhouse Theatre Company
Springhouse Theatre Company 14119 Old Nashville Hwy Smyrna, TN 37167