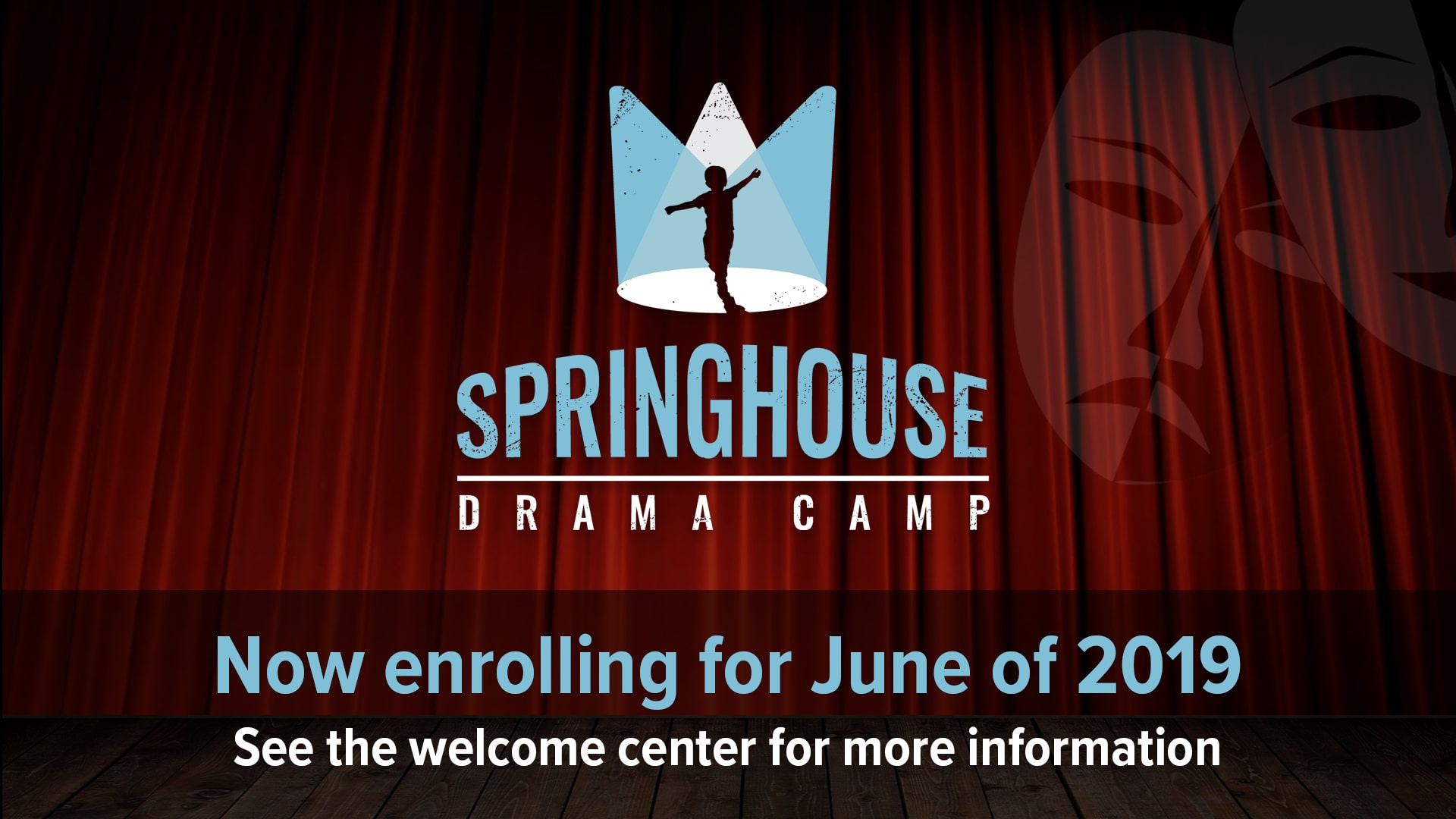 Springhouse Drama Camp, formerly known as SALT Shaker Drama Camp, is now enrolling for June of 2019. Offered each year since 1999, Springhouse Drama Camp is a day camp that meets Monday through Friday from 9:00 AM to 3:00 PM, with each camp culminating in a performance showcase on Friday evening at 7:00 PM. During the week the students learn and play theatre games, put together a showcase performance, and study in group workshops run by industry professionals.
Springhouse Drama Camp operates under Springhouse Theatre Company and meets on the campus of Springhouse Worship and Arts Center in Smyrna, TN. The new camp director for this year, Will Sevier bring decades of experience. "Our desire is to immerse our young performers into a positive theatrical experience, allowing them to grow as performers and individuals" says Sevier, "with each week of camp being an opportunity for students to study in the performing arts in a safe and Christian environment."
Three camps are being offered: Upper-­level Drama Camp (having completed grades 7 – 12) on June 3 – 7, Elementary Drama Camp (having completed grades 1 – 6), and the Musical Theatre Intensive Camp (grades 3 – 12) June 17 – 21.
For over twenty years Springhouse has offered drama camps to the youth of Rutherford County. Camp director Will Sevier wants to honor the work and ministry from the previous directors and continue the momentum. "What Margaret Meek and her daughters, Arwen and Valerie, have done for the youth of this community will last for many years. In fact, some of our camp councilors this year are previous campers. Our hope is to continue this drama camp for the next generation."
Drama Camps, at a tuition of $175, will be beneficial to students of all levels whether they are beginners or have years of experience on the stage. We will cover many aspects of dramatic performance including: auditioning, improv, scene study, character, and staging. The showcase at the end of the week empowers these young performers to grow in confidence, and gives parents and family members a glimpse of what was learned during the week. The Musical Theatre Intensive, at a tuition of $200, will focus on musical theatre. The students will learn songs, scenes, and choreography, and study auditioning, vocal performance, and staging. This week will build character, confidence, and musical capabilities, ending with the Friday evening performance. 
For more information please contact Will.Sevier@springhousesmyrna.com
To enroll, mail a completed enrollment form to:
Springhouse Theatre Company
C/O Drama Camp
14119 Old Nashville Highway
Smyrna, TN 37167