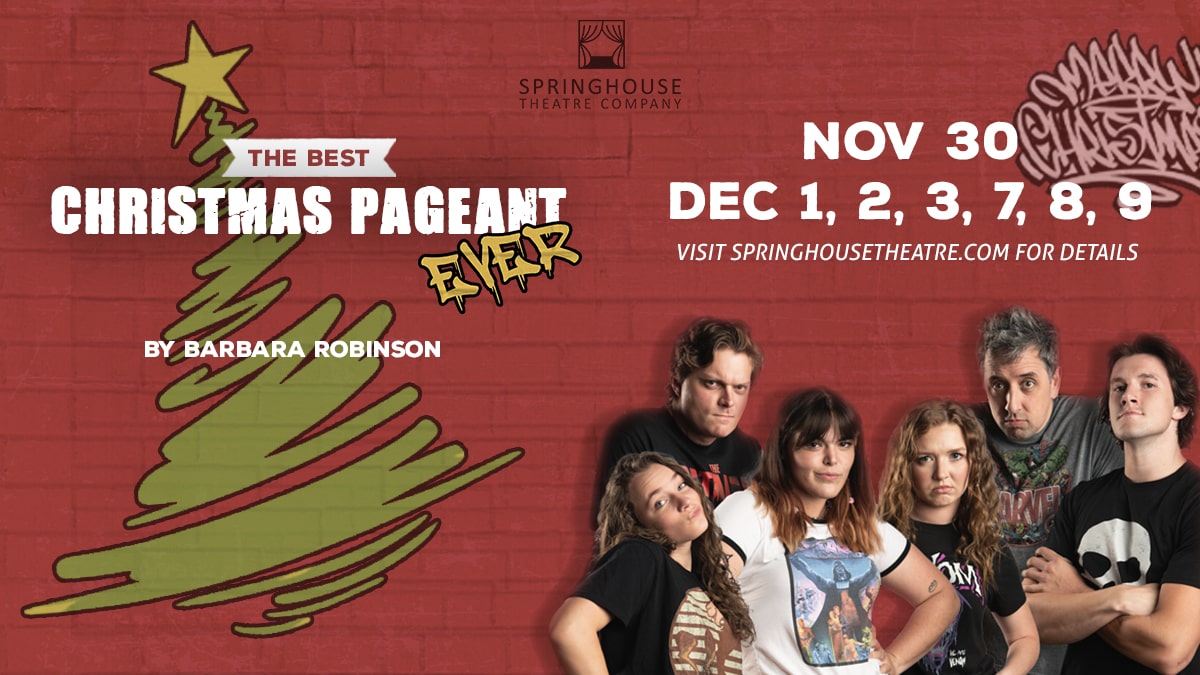 THE BEST CHRISTMAS PAGEANT EVER
by Barbara Robinson
Enjoy Springhouse Theatre Company's exciting new take on a classic,
The Best Christmas Pageant Ever!
Enjoy this cast of all adults in this hilarious Christmas classic, while a couple struggling to put on a church Christmas pageant is faced with casting the Herdman kids – probably the most inventively awful kids in history. You won't believe the mayhem – and the fun – when the Herdmans collide head-on with the story of Christmas!
The theatre lobby and box office open 1 hour before each curtain.
Seating begins 30 minutes before curtain for season ticket holders and groups.
Seating begins 20 minutes before curtain for all other patrons.
Children under 4 years old are not permitted in the theatre.
Performance Dates
November 30, 7:30 PM

December 1, 7:30 PM

December 2, 7:30 PM

 

December 3, 3:30 PM (matinee)

December 7, 7:30 PM

December 8, 7:30 PM

December 9, 7:30 PM
Meet the Cast!
Director: Rachael Parker
BETH BRADLEY – Zoe Naylor
CHARLIE BRADLEY – David Morris
GRACE BRADLEY (MOTHER) – Sara Stewart
BOB BRADLEY (FATHER) – Marcus Lackey
RALPH HERDMAN – Ian Stewart
IMOGENE HERDMAN – Marian Storvik
LEROY HERDMAN – Sam O'Brien
CLAUDE HERDMAN – Cavender Lane
OLLIE HERDMAN – Rachel Holien
GLADYS HERDMAN – Kennedy Brady
ALICE WENDLEKEN – Kristen Ownby

MAXINE – Bethany O'Brien
MRS. ARMSTRONG – Paula Parker
MR. SLOCUM – Dustin Glover
MRS. CLAUSING – Shanda Perkins
MRS. McCARTHY – Marsha Allen
REVEREND HOPKINS – Bob Martin
ELMER – Noah Cobb
HARPER – Sadie Ramsey
Soloist – Elsie Mendoza
Soloist – Libby Dillman
Soloist – Grace Montague
Ensemble
Patty Chappell, Anna Montague, Megan Johnson, Michael Gilette, Jadyn Peters, Genevieve Senden Fields, Joel Baker, Kat Baker, Kimbre Birdwell
BETH BRADLEY – Zoe Naylor
CHARLIE BRADLEY – David Morris
GRACE BRADLEY (MOTHER) – Sara Stewart
BOB BRADLEY (FATHER) – Marcus Lackey
RALPH HERDMAN – Ian Stewart
IMOGENE HERDMAN – Marian Storvik
LEROY HERDMAN – Sam O'Brien
CLAUDE HERDMAN – Cavender Lane
OLLIE HERDMAN – Rachel Holien
GLADYS HERDMAN – Kennedy Brady
ALICE WENDLEKEN – Kristen Ownby
MAXINE – Bethany O'Brien
MRS. ARMSTRONG – Paula Parker
MR. SLOCUM – Dustin Glover
MRS. CLAUSING – Shanda Perkins
MRS. McCARTHY – Marsha Allen
REVEREND HOPKINS – Bob Martin
ELMER – Noah Cobb
HARPER – Sadie Ramsey
Soloist – Elsie Mendoza
Soloist – Libby Dillman
Soloist – Grace Montague
Ensemble
Patty Chappell
Anna Montague
Megan Johnson
Michael Gilette
Jadyn Peters
Genevieve Senden Fields
Joel Baker
Kat Baker
Kimbre Birdwell
"The Best Christmas Pageant Ever" is presented by arrangement with Concord Theatricals on behalf of Samuel French, Inc.
www.concordtheatricals.com